Laser scanning technology has become increasingly popular among companies in the Architecture, Engineering, and Construction (AEC) industry in recent years. Discover how it works and its different types of applications.
Laser scanning technology captures the existing conditions of a site in high quality and in a digital format that can be accessed from anywhere with just a click of a button. The laser scanner can quickly and easily capture any shape or object, even with complex geometric forms, in a three-dimensional digital form using various laser points and lines. This scanned environment includes millions of data points presented together as point clouds with X, Y, and Z coordinates, enabling users to create the most accurate 3D models. We will discuss point clouds in more detail shortly.
Moreover, laser scanning can be used in various stages of a project, including design, construction, renovation, demolition, and more. Many professional laser scanning service providers also offer scan-to-BIM services that streamline the process of data collection and drawing development. At Sirvey, powered by ENG, we provide high-quality, detailed, ready-to-use 2D drawings and 3D models. Contact us today to learn more about how we can assist you with your next project.
Laser scanning technology involves various phases, from scanning and registration to deliverables management and more. In this article, we will delve into how laser scanning works and the types of data formats this technology offers.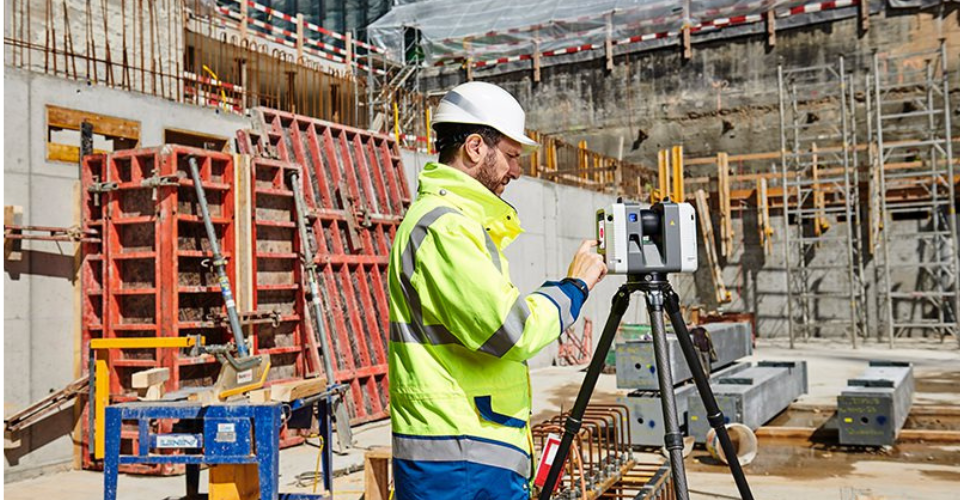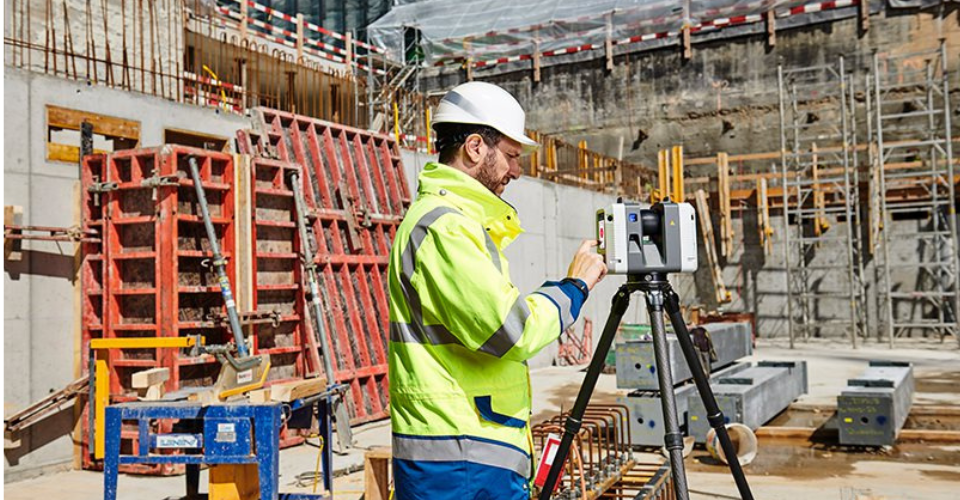 How Does it Work? 
Laser scanning technology has undergone significant advancements in recent years, not only in the way that the data is captured, also, providing faster and more precise scanning results. One popular option to perform the laser scanning survey is using terrestrial-static scanners mounted on a tripod base, which rotates at high speeds upon activation, emitting a low-energy, infrared laser light with exceptional precision.
The scanner's rotating mirror captures 360-degree images of the surrounding environment using light. The laser head then scans the area, bouncing off each object in its path and recording approximately one million data points per second with a spacing of 1 to 3 mm. The resulting data is a point cloud file that contains detailed measurements in X, Y, and Z coordinates, and may also include RGB values for each point.
To achieve the most accurate coordinates of any surface, structure, or surroundings, some modern laser scanners employ laser beams, advanced sensors, Global Positioning Systems (GPS), Inertial Measurement Units (IMU), receiver electronics, and photodetectors.
Laser scanning has revolutionized the way we measure and map objects and environments. It is widely used in the fields of architecture, engineering, and construction to create accurate models of buildings, roads, and other infrastructure. It is also utilized in the entertainment industry to produce realistic special effects in movies and video games.
Read the benefits of laser scanning for the AEC industry here!
Types of Laser Scanning deliverables
When it comes to laser scanning, these are the 2 most common deliverables: Point Clouds and 360 Views. Let's take a closer look at each one.
Point Clouds
The laser mapping process captures a large number of 3D survey points for any given object or surface. This data is referred to as a Point Cloud. These data points are converted into standard file formats through a process called registration or "stitching". They can be viewed as 3D models on various software applications such as Recap, AutoCAD, Revit, Navisworks, and Bentley MicroStation. Point clouds are also available in different file formats such as .ptx, .e57, .rcp, .rcs, .xyz, .pts, and .pod. Point clouds can be used to create both 2D drawings and 3D models.
However, point cloud files can be quite large to work with due to the millions of data points captured, which is a common concern expressed by many users. To reduce file size, point clouds can be decimated, which involves removing points based on spacing and percentages. Point cloud processing software usually has the ability to decimate files based on set parameters, but this should be done carefully to avoid affecting the quality and functionality of the final product.
If you're working Autodesk's Recap software, the preset point resolution for its files is 5 millimeters. Although, it's available to choose a resolution between 1 to 100mm. So, it's up to the user to determine whether they need a file with a tight resolution for additional details or a lighter file size for ease of use.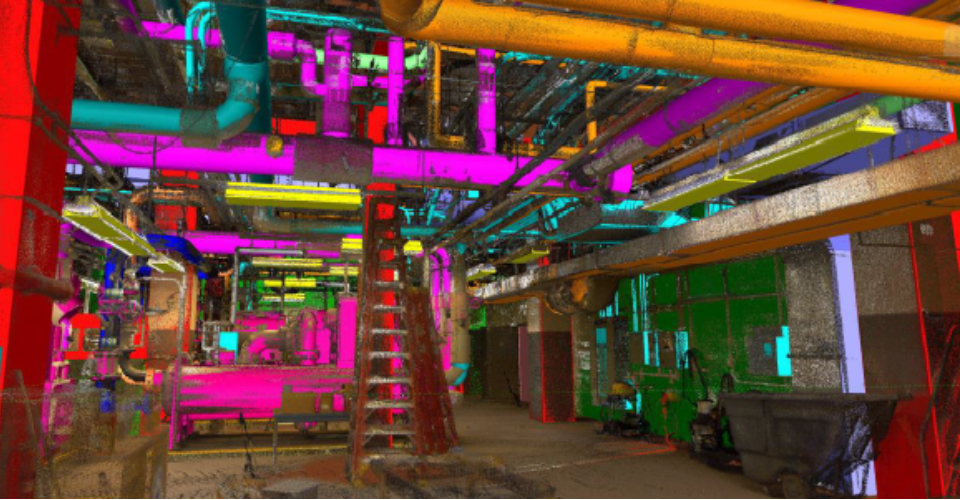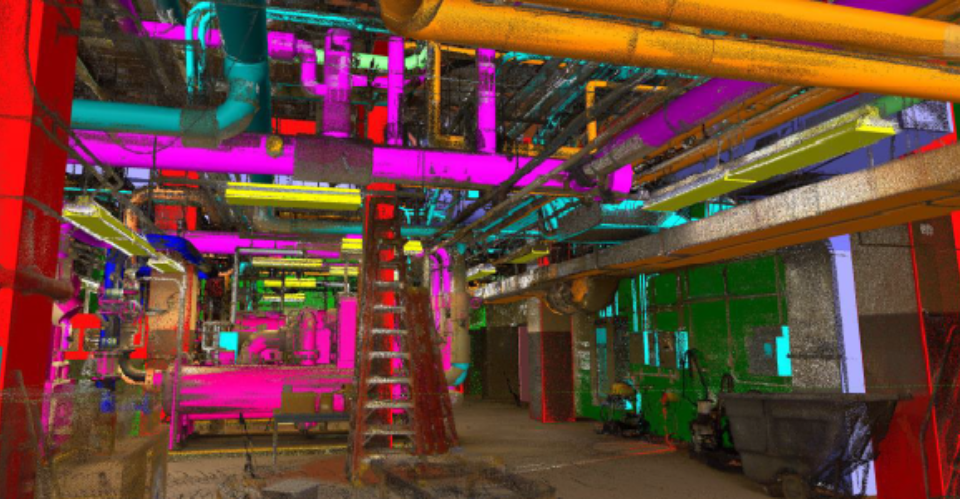 Greyscale and Colored Point Cloud 
The scanning process captures data in black-and-white initially, but it can be configured to take color photos to generate a colored point cloud. However, for construction-focused laser scanning, it's important to discuss and agree with the client on their specific requirements beforehand. During the scanning process, objects are assigned a greyscale value ranging from 0 to 100, which is determined by their reflectivity and the angle of incidence.
One of the interesting features of laser scanning is that it does not require spaces to be illuminated, and it can perform reality capture in complete darkness. Furthermore, laser scanners can capture spaces in full color by taking hundreds of tiny pictures that are stitched together to form a color, stereoscopic image. The processing software then applies color to the scanned 3D data points, resulting in a complete, full-color 3D point cloud. However, it's important to note that for capturing stereoscopic pictures, a laser scanner requires well-illuminated spaces.
Structured vs Unstructured Point Clouds
Structured or non-unified point clouds are created using terrestrial or tripod laser scans, and the scanner records individual locations of scan positions, real views, and depth maps. The data from these scans can be used to create mesh models, where each point is visible in 3D space. Structured scans are typically produced using devices like Faro, Leica, Z+F, Riegl, Topcon, and Trimble and support file formats like .FLS, .PTG, PTX, ZFS, CLR, RSP, and RDBX.
In contrast, unstructured or unified point clouds are generated using mobile lidars and drone-based photogrammetry, which produce unstructured data since there are no scan positions associated with a depth map, as in tripod scans.
Each point cloud software provides users with the capability to produce a unified point cloud. While structured data can be transformed into an unstructured point cloud, the reverse process is not viable.
Unified data combines all the scans into one individual file, but it loses the "structure" of the project and panoramic images. This makes it somewhat easier to operate in modeling applications like Revit.
360 Views
360 Views are a deliverable offered by of laser scanning technology. However, 360 Views have an added benefit as they allow users to explore a site multiple times from their computer. With the use of compatible software, 360 Views offers features such as markups and the attachment of additional information like images and PDF files. Collaborative work is made easier as all the scanned information can be accessed remotely.
360 color pictures are often used alongside point clouds to provide further survey records. These images can be combined with the 3D scanned data points to create a scalable representation of the site.
The color images can be installed on a local computer to create portable 360-degree panoramic views of the scanned data. This is especially useful when on-the-go and unable to access a cloud-based resource or dedicated server. Accessing the images is simple; each scanner brand offers the possibility of a portable viewer, sometimes online and sometimes offline.
Specialized software, like TruView, allows for enlarged and rotated images to view specific details and site dimensions. Additionally, this software can be used to identify structural defects such as cracks, sagging beams, or bulges in walls that may have been missed during on-site inspections.
The most Ultimate Deliverable
Additional deliverables can be created using point cloud data, depending on the initial scanning purpose. Whether it's for creating a base model for 3D model coordination or a record model for an existing facility, the process for creating these deliverables is similar. Let's explore how this works.
From Laser Scan to 3D Models
The scanned data from existing building can be used to create detailed 3D BIM models. In general, the resulting point cloud is linked to software like Revit, and using different views and modeling techniques, the modeler can start tracing the points to build the 3D digital geometry of the required building components. Precision and experience are necessary for creating 3D models from point clouds.
Developing complex 3D models of existing and historic buildings using scanned survey data has never been easier, as the scanned data can be directly integrated from point clouds to drafting platforms like Revit.
From Laser Scan to 2D Models
Once a 3D model has been created from the point cloud using software like Revit, 2D representations of the geometric forms can be extracted and annotated to produce a complete set of as-built 2D drawings. Additional details, such as floor tags, material specifications, and pipe elevations, can be added to the 2D drawings to create finished documents. As these drawings are generated from 3D models, the process of developing base drawings can be accomplished in a matter of minutes!
Conclusions
In recent years, laser scanning services have become more common and affordable throughout all design and construction phases. It's clear that this versatile tool can save thousands of dollars by minimizing errors, rework, and change orders. Additionally, incorporating point clouds into your workflow offers remote workability for all stakeholders and helps keep projects on schedule.
As a part of the evolving AEC industry, it's important to keep an open mind about technological breakthroughs in the market and use them to stay ahead of the competition.
If you're considering implementing this cutting-edge technology for your next project, consider Sirvey! Please contact us today to determine how we can help you achieve your scanning and documentation goals!
Wondering how is the laser scanning process? Click here and learn more about it.