Over the past few years, we have gained extensive and varied experience in hiring laser scanning providers. However, we've realized that when it comes to price, quality, and logistics, there is a considerable amount of uncertainty and unpredictability. Considering the challenges of the Reality Capture Industry, we created a Laser Scanning Platform: Sirvey.
Challenges of the industry
Let's start with what we've learned so far:
Quality: We do not compromise on quality. Choosing the wrong technology or not having enough experience in the geospatial capture field, among other factors, can make selecting a new laser scanning provider a real challenge. We know that point cloud integrity dramatically affects not only how an existing-conditions model will be developed but also how trustworthy it will be down the road. An incomplete or inaccurate 3D model impacts all the stakeholders and processes downstream in the design, coordination, and construction process.
Pricing: From a pricing standpoint, there are many questions to consider. How much should we pay for a project to be scanned? To what extent do travel costs and accommodation fees affect the overall scanning cost? How much productive time does a laser scanning technician lose by getting around and waiting at the airport boarding gate? How much does equipment shipping cost? These are just a few of the many questions we ask ourselves daily.
Scope: The scanning purpose determines the technology to be utilized along with the associated deliverables. When attempting to refine the scope of work, many questions may arise. Does the project need survey control? Is above-ceiling scanning necessary? What will the scanned data be used for? Do we want the point cloud data for space planning, marketing material, or to coordinate MEP trades for future retrofits? Should we scan the façade, roof, and site as well? These are just a few of the inquiries that need to be answered. 
Site Constraints: Site conditions can significantly impact scanning times. Should we cut holes in the hard ceiling to pass the scanner through or are there ceiling tiles that can be easily removed? Is the roof accessible, or should we scan from the surrounding buildings? Is flying a drone permitted in that specific area? Is the pilot certified? Should we rent a scissor lift to access some attic spaces? Who will take care of all those logistics? This sounds like a huge coordination effort. 
These challenges are the reason why we've developed SirVey. Our mission is to make Laser scanning easy for everyone.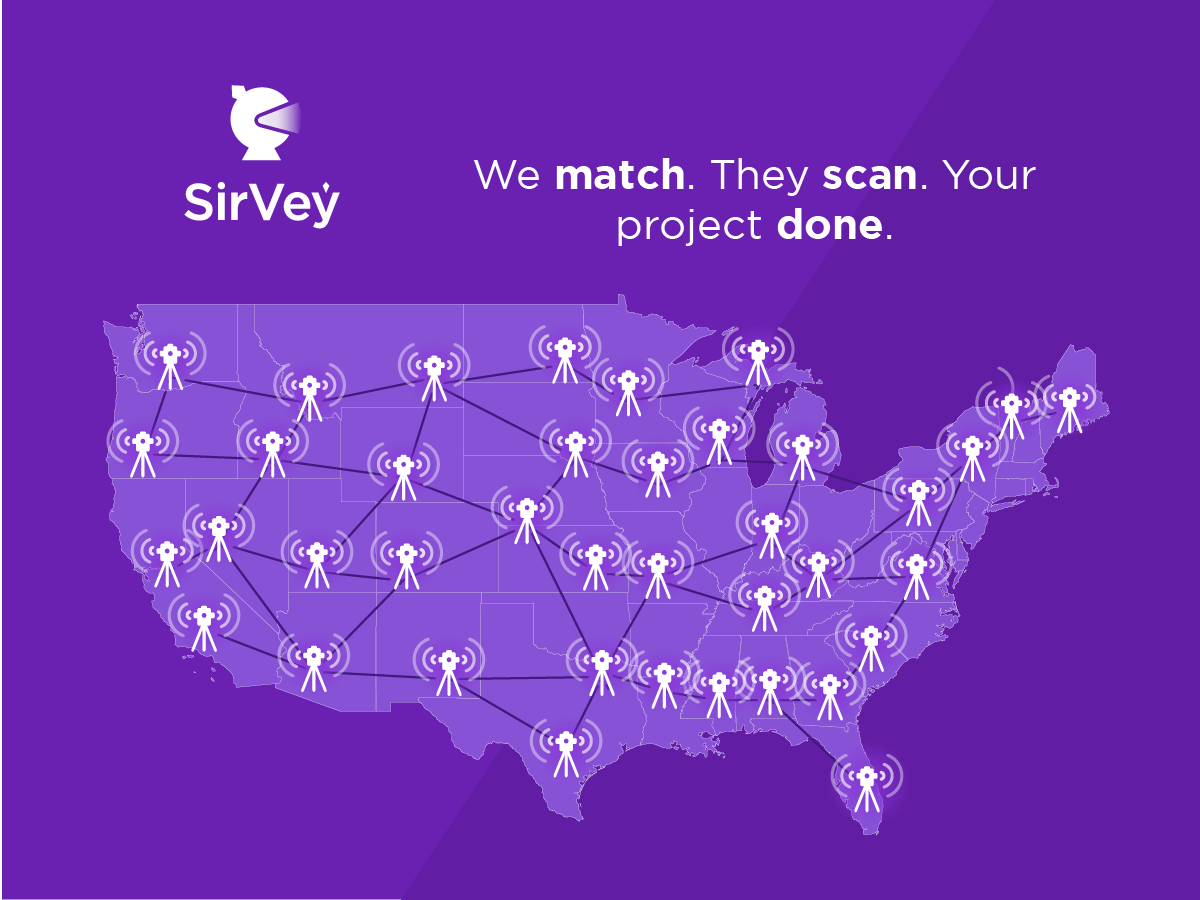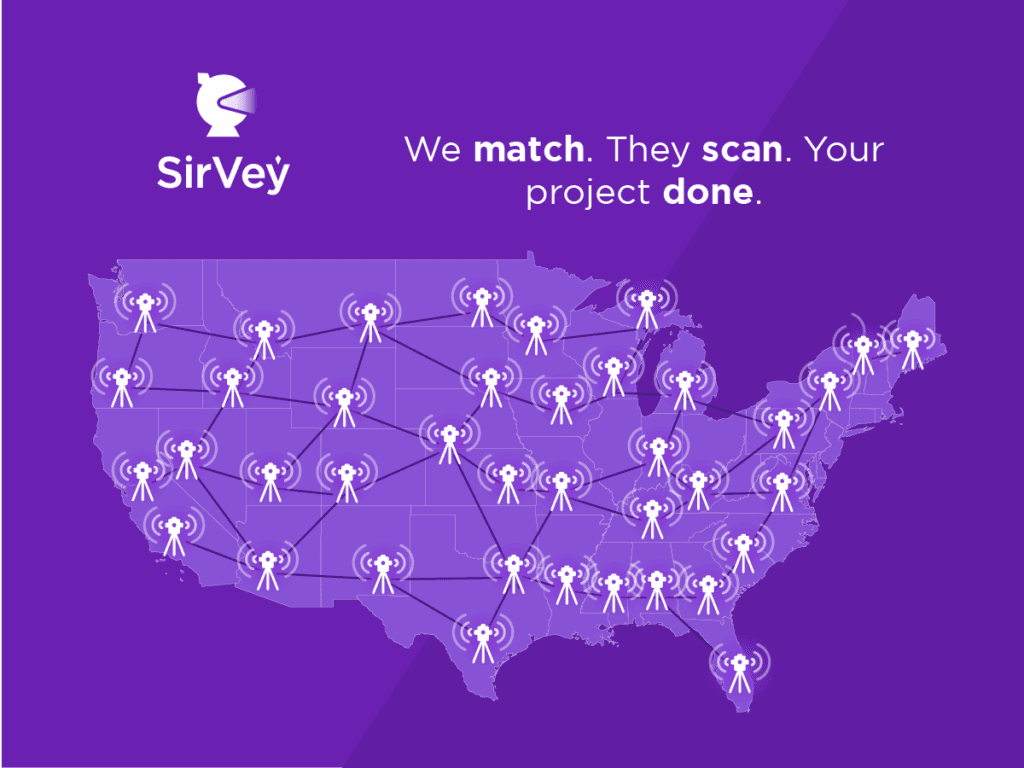 About Sirvey
We've realized that technology can sometimes be overwhelming. As we believe that reality capture is the way to go for all AECO projects, we want to change that perception. By applying the principle of Shared Economy like Airbnb or Uber, we want to 'uberize' the laser scanning processes by connecting AEC stakeholders that need laser scanning for their projects with the closest and best possible service provider. With this, we ensure more predictable quality results and provide the best user experience through project management and communication standards.
Our goal is to promote and democratize the use of laser scanning technology, making it accessible to everyone. We are committed to making the process easy for our clients by offering various scanning options, that are best suited for their project's needs, including colored scans and 360 pictures, as well as terrestrial, aerial, or mobile scanning. We also ensure the point cloud density, file breakdown, and size meet those needs. Additionally, we handle the heavy file transfer and storage for our clients, making the process as seamless as possible. Trust SirVey to take care of your scanning needs. We coordinate and oversee the entire process, so you can just unplug. Of course, we can assist you with BIM models and drawings as well. 
Our prequalified Laser Scanning Network provides covering wherever you need. We have technicians located on all major national markets, so they get the job done within driving distance of your projects. Our proximity enables us to provide a quick turnaround time. Additionally, we bid on each project, allowing us to offer the most competitive option. Lastly, since our providers undergo a rigorous qualification process to join our network, you can rely on our deliverables with confidence. 
Want to try SirVey? Require a quote here! We're pleasure to hear about you.